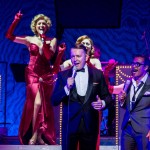 Changing Your Voice
If you want to see one of the best examples of changing your voice, go and see the successful and well known Irish actor  Garrett Phillips, do an incredibly accurate impersonation of the late and great, Frank Sinatra in The Rat Pack Live from Las Vegas at the Theatre Royal, Haymarket, London.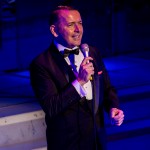 Wow what a performance.
I saw Frank Sinatra singing in concert in London, many years ago and I tell you, Garrett Phillips has him down to a t!
So if you weren't lucky enough to see the real blue eyed Sinatra, check this one out!
And you'll love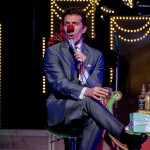 how the actor does a deliciously funny, accurate and permanently tipsy Dean Martin too!
Sammy Davies Jnr is superb as well …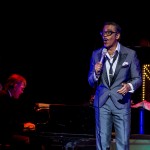 … and all in all, you will have a great evening
This very popular show has been running to hundreds of ecstatic audiences and has just added the mellow tones of the delightful Ella Fitzgerald and together with the rest of the cast, could banish anybody's January blues!
So if you among many wish to start this year doing the thing you've always wanted to do – sound better and illicit positive responses easily when you speak –  and are interested in changing your voice, this show is inspiring.
As well as being rousingly good fun, the production shows you, that with dedication, discipline and perseverance, you can dramatically change your sound – even make sounds that the world over…  loved…!
How about that then?! Universally acknowledged, gorgeous sounds!
Changing your voice requires hours of listening and practising – if it was easy everybody would do it. And of course they don't – but as one ambitious friend said to me: champions do daily what others only think of doing…
And I would add to that: what gets measured gets done – do the daily metrics on your time.
So it is, with changing your voice. You can't just throw money at a teacher – it's like learning a sport, or an instrument, or a dance or a choreographed routine or any new skill: you have to practice.
So I say an absolute minimum of 30 minutes a day to my students – but me – well I spent hours learning impersonations.
I admit I was obsessed and happily call myself the Voice Geek.
You will be amazed and delighted at these actors extraordinarily excellent impersonations of Frank Sinatra, Dean Martin, Sammy Davies Jnr – who made up the famous and glamorous Rat Pack singing in Las Vegas in the 1950's.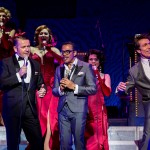 All the 1950's glamour abounds, with the singing Burrelli sisters, dressed head to toe in the gorgeous 1950's glamorous styles – oh and don't we need a bit of glamour in these grey skied days with our tax returns waiting!
All the cast is backed by  the most fantastic jazz band – on stage – wait for the sax solo (!) led by the highly acclaimed pianist, arranger & conductor, Matthew Freeman.
I tell you – you are in for a treat.
All of the actors have worked so hard and so, have been, and are, so successful at creating these great legends to walk, sing again and thrill the packed audiences of 2017 and now 2018!
But hurry: show ends February 3rd.
Standing ovations have been the norm, with people dancing in the isles and shouting for more!
The Rat Pack Live From Las Vegas at the Theatre Royal, Haymarket, London.
So go and be inspired about changing your voice – you'll have such fun and come home thinking – right!
This IS possible and if I work at it, I can do it too!
Changing your voice, really is possible 🙂